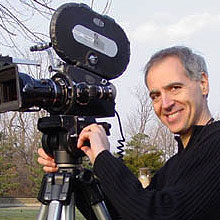 Kamen Bonev is a graduate of the National Academy of Theater and Film Arts in Sofia, Bulgaria, where he received a Master of Fine Arts degree. In Bulgaria, he worked in a wide range of capacities as a Independent photographer and cinematographer, lecturer in forensic photography, underwater Visual media specialist for UNESCO research team and the Bulgarian National Television. As a photographer, Kamen's work has been published in national and international magazines and newspapers in the fields of photojournalism, advertising, wildlife, science and ecology. His photographs are the principle illustrations for numerous texts, including books on criminology, neurosurgery, and sport.
Currently residing in Pittsburgh, Kamen works as a freelance photographer and cinematographer. He is also visual media artist of Ensemble Palimpsest group, performing internationally. In addition, Bonev is Adjunct Assistant Professor at The Pittsburgh Filmmakers Institute where he teaches courses in filmmaking.
Kamen acted as the film director, cinematographer and editor for SanaView in the creation of the film "Bethany's Story" and the follow on educational video courses.